Half Day Athens Sightseeing
Duration - 3½ - 4 hours
Athens city combines great history, being the birthplace of civilization and at the same time a very modern European city. What we want to offer you is a personalized tour allowing you time to stop at the sights that are of more interest to you and giving you choices of what you would prefer to visit, with stops in order to accommodate your wishes. Our tours are operated in a comfort and relaxed style.
Your driver will meet you at your requested pick up point may it be at the hotel your residing at or perhaps you maybe in Athens for just a few hours in transit from a cruise.
The most popular attractions include visits to the Panathinaiko Stadium were the first Olympic Games took place, drive by the Prime Ministers residence, the ex Royal Palace (Guarded by Evzones), stop at Zappion (Conference and Exhibition Hall), the National Garden, Hadrian's Arc, Parliament Building and the Tomb of the Unknown Soldier, continuing down Panepistimiou Avenue to view the Academy, the University and the National Library, passing by Constitution Square and of course the highlight of the tour a visit to the Acropolis were you will see the Temple of Athena Nike, Parthenon and Erechtheion. Also you will be taken to Lycabettus Hill where you will have a chance to take panoramic photos of the city of Athens.
Please note that whilst our drivers will do their utmost inorder to assist you during your private tour it should be noted that our drivers are not professional licensed guides, should you so wish a licensed guide to accompany you (in the language of your preference), we are able to organize this on your behalf.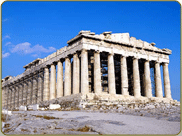 Parthenon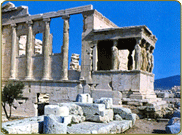 Erextheion & Caryatids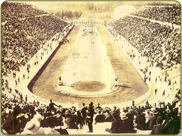 Panathinaiko Stadium during the 1st Olympic Games, in 1896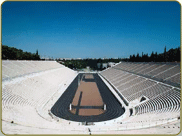 Panathinaiko Stadium today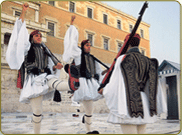 Changing the guard of honour in front of the Parliament Building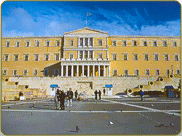 Parliament Building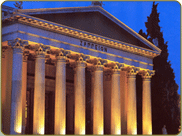 Zappio
(Conference and Exhibition Hall)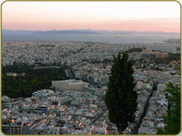 Athens view from Lycabettus hill