Full Day Athens and
Cape Sounion
Duration - 8hrs approximately
If you don't have a long stay in Athens combining Athens city tour with Cape Sounion is the best way to get the most out of your day.
Your driver will meet you at your requested pick up point may it be at the hotel your residing at or perhaps you maybe in Athens in transit for a full day from a cruise.
The most popular attractions include visits to the Panathinaiko Stadium were the first Olympic Games took place, drive by the Prime Ministers residence, the ex Royal Palace (Guarded by Evzones ), stop at Zappion (Conference and Exhibition Hall), the National Garden, Hadrian's Arc, Parliament Building and the Tomb of the Unknown Soldier, continuing down Panepistimiou Avenue to view the Academy, the University and the National Library, passing by Constitution Square and of course the highlight of the tour a visit to the Acropolis were you will see the Temple of Athena Nike, Parthenon and Erechtheion. Also you will be taken to Lycabettus Hill where you will have a chance to take panoramic photos of the city of Athens.
Your driver will take you to Plaka area which is also referred to as old Athens. Plaka is a typical tourist area, with its small roads full of tourist shops and local Greek Taverns. Free time for your to explore the streets and have a nice lunch.
Continue you tour by enjoying afternoon drive in comfort along the picturesque coastal road of Athens which offers a magnificent view of the Saronic Gulf. Drive past the southern suburbs of Athens, Glyfada, Vouliagmeni and Varkiza to Cape Sounion where you will visit the Temple of Poseidon dating back to the 5th century B.C. With a sheer drop of 197 feet to the sea, not being rushed you can enjoy at a café near the temple a refreshment and marvel the view, on a clear day you can see at least seven islands.
Please note that whilst our drivers will do their utmost inorder to assist you during your private tour it should be noted that our drivers are not professional licensed guides, should you so wish a licensed guide to accompany you (in the language of your preference), we are able to organize this on your behalf.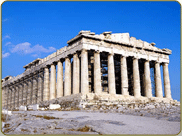 Parthenon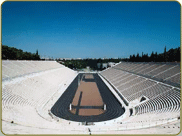 Panathinaiko Stadium today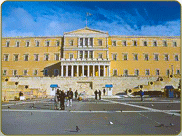 Parliament Building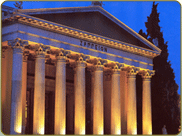 Zappio
(Conference and Exhibition Hall)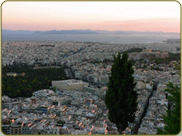 Athens view from Lycabettus hill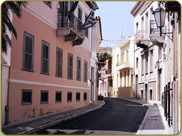 Plaka - Old Athens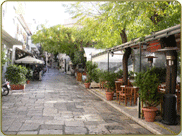 Greek Tavern in Plaka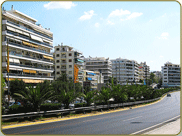 Athens' southern suburbs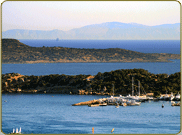 Vouliagmeni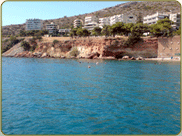 Varkiza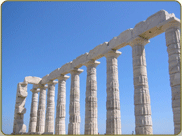 Temple of Poseidon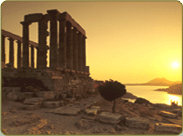 Temple Sunset