Full Day - Mycenaes, Nafplion & Epidauros
Duration - 11hrs approximately
Another popular full day tour, your driver will meet you at your requested pick up point, at your time of preference as this is a full day tour, suggested pick up time is 08:30.
We will start the tour by driving towards the Corinth Canal which joins the Peloponnese to Greek mainland, here if you wish you can stop for coffee and photos, the Canal has a breathtaking drop of 52m and length of 6.3 km, a view that shouldn't be missed.
Continue your drive to Mycenaes, located in the south central part of Greece. The Mycenaen civilization existed during the Neolithic period around 4000 BC, but reached its zenith during the Bronze Era 1350 BC to 1200 BC. Here you may enter the city by passing the Lions Gate and continue to King Agamemnon's Tomb, this city was known for its great warriors and also rich with gold, as it is also the site of were King Agamemnon's gold mask was discovered.
When you are ready we will continue to Nafplion, once the first capital of Greece in the beginning of the 19th century, and is now a quaint Greek town and a very popular destination amongst the Greeks for their summer vacation. Here you can visit the Venetian castle of Palamidi overlooking Nafplion, if you are daring you may climb 999 steps to reach the castle or if would prefer for a more relaxing means your driver will take you to the point which the road leads to, a great opportunity for more photos. Also in Nafplion you can have time to enjoy strolls in the town and have your lunch near the sea at Greek fish tavern.
You can now continue to Epidaurus. Here you will find the famous ancient theatre of Epidaurus. Built in 2 segments, the first segment was built with 34 rows, 13 stairways and divided into 12 sections at the end of the 4th century BC and the second segment with 21rows , 23 stairways was built during the 2nd century BC. The theatre seats over 10,000 spectators and is known for its amazing acoustics, standing in the middle of the stage a coin may be dropped and heard by all guest upto the last row (a result of the Greeks' high technical knowledge at the time). Today over 1,000,000 guests per year come to visit the theatre again this is a sight you don't want to neglect visiting.
This excursion is a busy full day tour and now you can enjoy your drive back to Athens in your private luxury car with return to your hotel.
Please note that whilst our drivers will do their utmost inorder to assist you during your private tour it should be noted that our drivers are not professional licensed guides, should you so wish a licensed guide to accompany you (in the language of your preference), we are able to organize this on your behalf.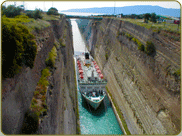 Corinth Canal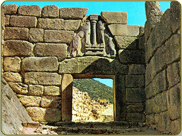 Lions Gate, Mycenaes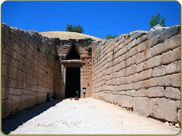 King Agamemnon's Tomb, Mycenaes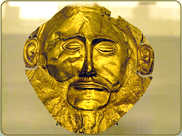 King Agamemnon's burial mask made of gold, Mycenaes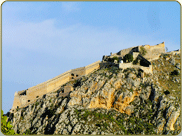 Venetian castle of Palamidi, Nafplion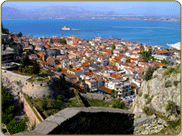 View from the castle of Palamidi, Nafplion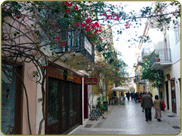 Old town of Nafplio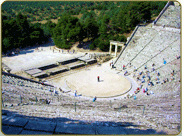 Ancient theatre of Epidaurus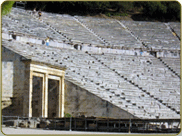 Ancient theatre of Epidaurus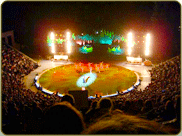 Performance of ancient drama in the ancient theatre of Epidaurus